Sridevi's baby Jhanvi gears up for Bolly Launch. Another Kapoor Product in the
Jhanvi Kapoor may not have any claim to fame yet cept her celeb kid prestige but she is already celebrating her life like a socialite. What Paris Hilton and Kadarshian women started in their late twenties this star progeny was done and dusted with them gimmicks in her delicate flowery teens.
I have been hearing about this young whiz ever since momma Sridevi made her smashing comeback with English-Vinglish. The movie was beautiful and director Gauri Shinde crafted a masterpiece with her deftness and Sridevi's heart-melting character portrayal won our empathy.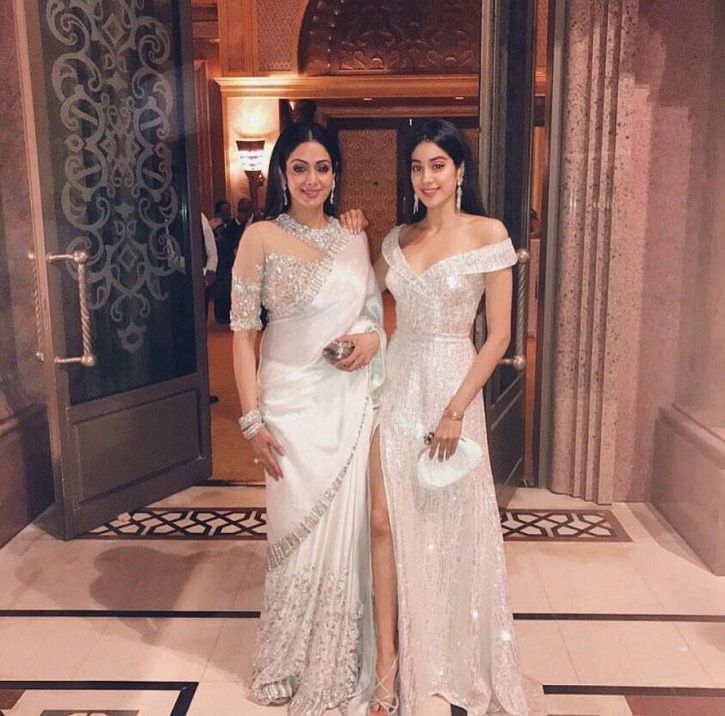 Avenues opened for Mommy post her excellent work and hitherto steps in Jhanvi a young, pretty, confident bulbul making headlines alongside her mother. Before the media could even speculate whether Jhanvi will fit in her mother's shoes the babe was already making headlines for reasons different vis-a-vis Sridevi's legacy.
Shutterbugs caught her with celeb kid friends partying and scorching the dance floor with her moves at some posh nightclub in some skimpy outfit (too provocative) for her 16 years of tender age. Then we also caught glimpses of her in Bikini and water baby mode at some unknown location. Her canoodling with Ishaan Khattar and her foreign vacation pictures caught great public interest too.
If you are rich and you want to win blind followers set up an insta account. Every tasteless lacking in luxury wannabe will be in awe of your prosaic designer clothes and will want to copy your high-end styles. True story. I have seen young girls heading to their Mecca aka Sarojini Nagar and haggling for ripped off designs. "Bhaiya Mujhe who Jhanvi Kapoor waala brown fur jacket dekhana"
"Yeh dekho madam. ek dum original maal hai yeh"
The girl uses the ideal platform to showcase her unoriginal designer taste. She is taking social media by thunder by putting out her pictures in different styled avatars. Sometimes she goes boho, other times desi n ethnic, sometimes revealing and most of the times a rip-off of Hollywood megastars.
`That aside, these days Jhanvi is in gossip for two things. Her boyfriend Ishaan Khattar( he is Shahid kapoor's cousin) and her Bollywood debut film which is a remake of Marathi Movie "Sairat."
We recently heard the buzz that the film will be shelved and mentor Karon johar is more invested in other projects and Jhanvi's clamor of whining but now we are hearing that the film is on and will hit the screen in mid-2018. We don't know yet Jhanvi what to expect out of your acting skills but as the norm goes you will definitely with Mommy Sridevi. Brace yourself.
---