4 interesting facts about the biggest villain of Indian Mythology- The
Ravana is remembered by the most as the ruthless king who kidnapped Sita and was eventually killed by Ram and his monkey army. But only few people know that he was half demon and half brahmin and not just one another brahmin, he was one of the most educated and well versed brahmins that ever existed. So, here are 5 eye opening facts about the biggest villain of Indian Mythology.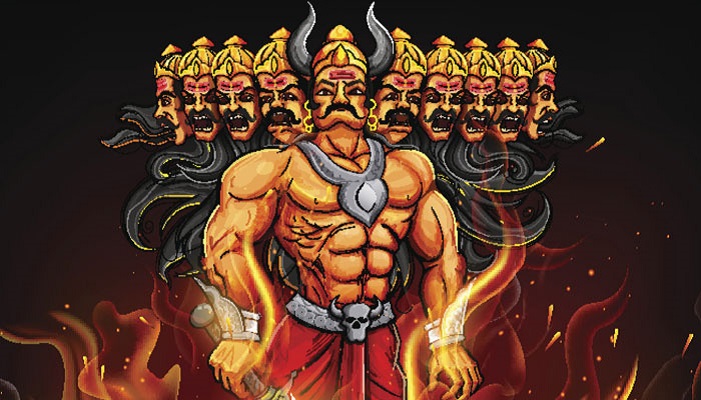 He almost took Lord Shiva from Kailash to Lanka: He was one of the biggest devotee of lord shiva and his devotion such that lord shiva even handed over Atma Linga which was Shiva's soul to ravana that gave him immortality and invincibility. He went all in when he tried to uproot mount kailash and take shiva to lanka, but shiva made him realise what shiva's actual power was by keeping a toe on the surface thus crushing Ravana's finger.

Ravana even blessed Ram: When the construction of Ram Setu was finished by Ram and his monkey army the commencement yagya was to be done and Ravana who being the most learned pandit in Lanka did it. Some Lankan manuscripts even suggest that Ravana even blessed Ram with Vijaybhav(Win the battle).

Reign of golden era for Lanka: Many people think that Ravana was a cruel or a ruthless ruler but the truth is he was a very good and fair ruler and yes he took the throne of Lanka by force from his brother, there is one other fact that Lanka saw its golden time under the reign of Ravana.

Ram even asked lakshman to take lessons from Ravana: Ravana was one of the most learned brahmin that ever lived and Ram being one of the avatars of Vishnu knew it all. Hence he asked Lakshman to take important lessons for being a ruler. On his deathbed Ravana gave lakshman some very important lessons to rule and beware of the mistake that he made as a king.
---