Is rahul Gandhi the real Pappu or us the Indians? Only Mr. PM NaMo
Social media seems to manipulate Rahul Gandhi's every word to prove he is the Pappu Gandhi. Not touching any of his previous words to support him but just taking latest speech by Rahul Gandhi tells us a different story, Pappu does not seem to be Pappu anymore infact it seems Modi Ji thinks we all are Pappu now. He basically is trying to show us the Mr. PM NAMO is just showing us big dreams and wasting our hard earned money by continuous unsuccessful decisions.
Removing the manipulated part and quoting Rahul Gandhi's original speech, he said " Narendra Modi governed BJP gave Tata Automobiles Rs 33000cr for the manufacturing of completely unsuccessful TATA Nano project, NaMo promised to give Nomads Rs 40000cr, further promised of giving Rs 500cr for floods affected areas. NaMo also promised Potato farmers to establish a machine which would have two sides with inlet as potatoes and outlet as gold. Further Rs 15 lakh will be given in every bank account but changed minimum balance to Rs 3000 in bank accounts."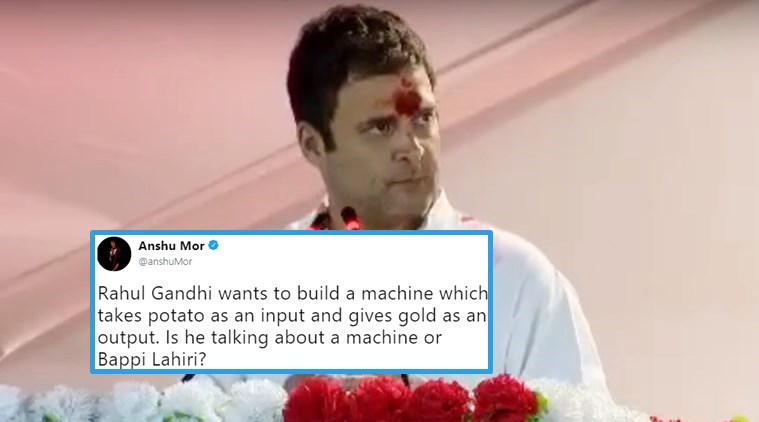 Any sensible and unbiased person would agree with Rahul Gandhi's latest speech, with concluding anything on the 5-year tenure of this government and just looking at the work done till now, there seems to be no success so far. Modi Ji has promised and we have be assured of a better India but to failure every time. Maybe, maybe we see some fantastic work at the end of the tenure and this may just have been the bad planned good treaties but it's the result that counts and the results till now has been a completely failure for our loving Mr. PM NaMo.
Its up to you to decide whether original Pappu is Rahul Gandhi or us Indians and devotees of NaMo.
This is the video link for the actual speech:
---